Emphysema is part of the process of deteriorating chronic obstructive pulmonary disease, report doctors at the Mayo Clinic. When the air sacs at the end of the bronchioles, or air passages, become damaged, emphysema occurs. Eventually, the destruction of the air sacs results in large pockets strewn with holes in the inner walls of the air passages. Oxygen is blocked from reaching the bloodstream and air in the lungs has difficulty escaping. There are a number of symptoms to watch for in the end stages of emphysema.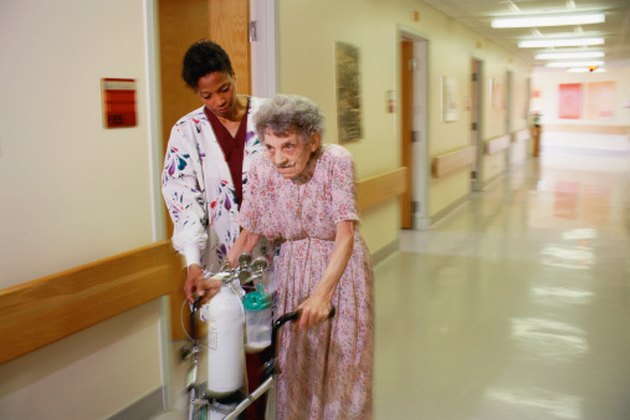 Obvious signs
As the disease progresses, obvious signs of end stage emphysema become apparent. Oftentimes, the fingernails and lips of people with end stage emphysema become grayish blue in color, indicating a lack of oxygen to the extremities. The mucus that is coughed up during a coughing spell turns yellow or green.
Breathing
While impaired breathing is a common symptom of emphysema in all its stages, patients with end stage emphysema can no longer perform the same level of activities that they use to and tire more quickly. Even bending over to tie a shoe becomes impossible without becoming short of breath. Breathing becomes labored even when resting. Respiratory infections become more serious and take longer to heal.
Lung failure
Researchers at Emphysema.org report that complete lung failure is one of the final stages of emphysema and often necessitates a lung transplant. At times, patients develop a pneumothorax, causing too much air to leak out of the lungs. The damage is usually accompanied by a stabbing pain and inability to breathe. The radical surgery is performed when all other treatments have failed. Doctors typically only remove and replace one lung, since studies have shown that rehabilitation works best for patients who have only the transplant of one lung.
Weight Loss
As eating becomes more difficult and takes too much air to accomplish, extensive weight loss is common during the progression of emphysema, report doctors at Merck. At the same time increased levels of a substance known as tumor necrosis enters the bloodstream, adding to the weight loss.
Changes
Other changes take place as the disease progresses. Many times, the decreased lung function causes swelling in the legs. Patients may cough up blood and experience severe headaches upon waking in the morning. As they adapt to the progressive symptoms, people with emphysema often develop different ways of breathing, such as pursing their lips to control the air flow or leaning over a counter with their weight resting on their arms.