In August 2010, Five Guys Burgers and Fries was voted the Best Fast Food Burger by the Zagat Guide. They also received runner-up in the Best French Fries category. With all of this delicious food, it would seem that the nutritional content in Five Guys' food offerings must be extremely unhealthy. Though Five Guys' food does have a high level of fat and calories, the quality and availability of the food may make it worth an occasional visit.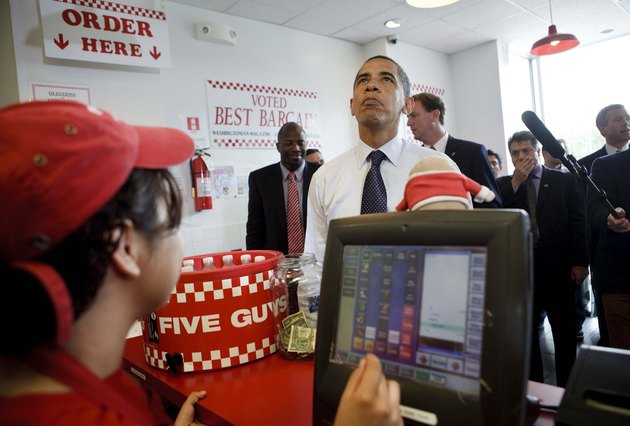 Five Guys History
Five Guys began as a small burger restaurant in Virginia in 1986; as recently as 2001, they only had five locations in the Washington, D.C. area. Since then, Five Guys has exploded in terms of its availability and popularity, with restaurants now located in 40 states. As of 2010, Five Guys regularly expands at a rapid rate and offers customers amenities such as free soft drink refills and online ordering.
Five Guys Burgers
A basic Five Guys burger consists of two hamburger patties and can be augmented with as many toppings as you'd like at no additional cost, with the sole exception of bacon. According to the Five Guys website, a plain hamburger contains 700 calories, 43 grams of fat and 19.5 grams of saturated fat. These numbers jump to 840 calories, 55 grams of fat and 26.5 grams of saturated fat for a cheeseburger.
Most of the toppings offered by Five Guys have negligible nutritional content. The biggest hitters is mayonnaise, which has 100 calories and 11 grams of fat. Other toppings that contain a high level of calories are bacon and barbecue sauce.
Five Guys Fries
Five Guys are famous not only for having great fries, but for giving customers heaping servings of their fries. While the serving size for fries is a cup full of fries that contains 310 calories and 15 grams of fat, Five Guys actually gives you twice that amount. Consuming all of the fries you've been given is a 620 calorie feast that also includes 78 grams of carbs. On the plus side, Five Guys' fries are very low in sodium when compared with the fries at McDonald's and Burger King; a regular-size order of fries at Five Guys contains just 90 mg of sodium. Five Guys' large order of fries is a 1,464-calorie whopper that is not recommended for just one person.
Five Guys Hot Dogs
Five Guys isn't just about burgers and fries. You can also get hot dogs, which can be served plain or with cheese, bacon or both bacon and cheese, in addition to any other condiments you'd like. A plain hot dog will run you 545 calories and 35 grams of fat, while a bacon cheese dog contains 695 calories and 48 grams of fat. The bacon cheese dog also contains 1,700 mg of sodium, compared to 1,130 mg for a plain hot dog with no condiments.
Healthier Alternatives
An average Five Guys meal of a burger and fries means consumption of at least 1,200 calories and 60 grams of fat. As delicious as Five Guys food is, that may be a bit much for some people. Fortunately, Five Guys offers some healthier alternatives to their burgers and fries. You can get a "little" hamburger or cheeseburger that consists of only one patty, cutting anywhere from 200 to 300 calories out of the regular-sized offering. You can also get a grilled cheese sandwich or vegetable sandwich, both of which are under 450 calories and contain more than 10 grams of protein. If you have to have some fries, you can always share a regular-sized serving with a friend; no matter how large your group is, there will plenty of fries to go around.