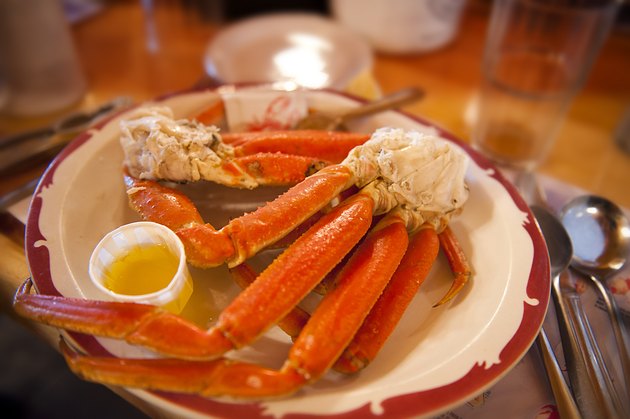 If you enjoy the flavors of the sea but aren't fond of cooking your own lobsters, you might decide to treat your family to Red Lobster. Since the chain's first location opened in 1968, Red Lobster has been known for not only its lobsters, but also its crab, shrimp and other forms of seafood. Seafood lovers with significant appetites might choose to tackle the enormous Ultimate Feast platter.
For the Ultimate Appetite
Red Lobster's Ultimate Feast is one of the restaurant's signature combinations. This platter includes a split lobster tail, steamed snow crab legs, garlic shrimp and breaded shrimp. The meal contains 400 calories, 16 grams of total fat and 2 grams of saturated fat. You'll also take in 50 grams of protein, 2,690 milligrams of sodium and 14 grams of carbohydrates. Although the caloric content of this meal is relatively low, be cautious of the sodium in this dish. Adults should consume less than 2,300 milligrams of sodium per day.