Obesity is defined as a body mass index of greater than 30, reports the University of Maryland Medical Center. As obesity is associated with a number of acute and chronic health conditions, it should come as no surprise that many obese people are interested in getting fit. Daily exercise and a healthy diet are crucial for those who want to lose weight and improve their fitness. Be sure to set reasonable goals to ensure optimal results.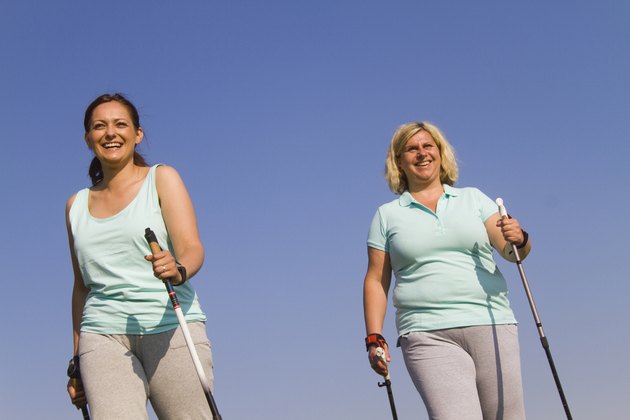 Regular Aerobic Exercise
According to the American College of Sports Medicine, regular aerobic exercise is crucial for obese individuals looking to get fit. For optimal results, aim for at least 30 minutes of moderate-intensity aerobic exercise five or more days per week -- which can be broken up into 10-minute periods of time, says the University of Maryland Medical Center. In addition to aiding in weight loss, aerobic exercise can reduce abdominal fat, lower blood pressure levels and help stabilize blood sugars. Walking, biking and swimming are all excellent forms of aerobic exercise for obese individuals who want to get fit.
Incorporate Resistance Training
Incorporating resistance training can also be helpful when it comes to getting fit. Lift weights two to three times per week -- using body weight exercises, resistance bands or dumbbells -- to increase muscle mass and strength. In addition to boosting strength and increasing muscle size, regular weight training can be an effective way to increase metabolic rate, reports the American College of Sports Medicine. Over time, this can promote elevated calorie burn, weight loss and improved fitness levels.
Follow a Healthy Diet
A healthy diet is also important for those seeking to get fit. In fact, choosing the right types of foods -- and limiting the intake of others -- can be an effective way to decrease calorie intake, promote weight loss and increase fitness levels. The book "Nutrition Therapy and Pathophysiology" reports that cutting calorie-dense foods, including those high in fat and sugar, is important when it comes to creating a negative calorie balance. In a negative calorie balance, individuals eat fewer calories than their body needs over the course of a day, resulting in decreases in weight. Consider swapping out calorie-dense foods for whole grains, lean meats, low-fat dairy sources and colorful fruits and vegetables to ensure optimal results.
Set Appropriate Goals
Be sure to establish appropriate goals when getting fit. While reaching a healthy BMI is important, it can be intimidating for those who are very overweight. The American College of Sports Medicine reports that individuals who lose even 10 percent of their current body weight can experience a number of important health benefits, such as reductions in joint pain, improved heart health and lowered risk of some types of cancers. Start with a short-term goal -- such as a 10 percent weight loss -- when transitioning to a fitter, healthier lifestyle.