Restless legs syndrome or RLS is a neurological condition that causes your legs to throb, pull or become so uncomfortable that it creates the urge to get up and move. RLS affects nearly 10 percent of the U.S. population and occurs more commonly in women than men, according to The National Institute of Neurological Disorders and Strokes. RLS usually strikes at night and can range from mild to severe. Aside from moving around when these symptoms appear, there are some foods that may you bring relief.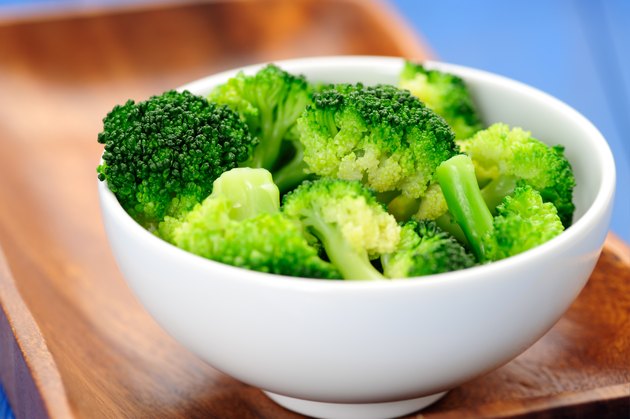 Foods High In Iron
Restless legs syndrome often results from an iron deficiency so adding iron-rich foods may prove helpful in easing some of the painful or irritating symptoms, states MayoClinic.com. Iron is essential to human health. It assists in the transportation of oxygen throughout the body and helps regulate cell growth. The Office of Dietary Supplements at The National Institutes of Health suggest that a body low in iron often suffers from neurological disorders such as restless legs syndrome and may also experience fatigue, a weakened immunity and poor work performance. Foods high in iron include animal proteins such as red meat, fish and poultry and vegetable sources such as lentils, all kinds of beans including black, pinto, garbanzo, soy, navy and kidney, as well as green leafy vegetables, broccoli, green peas and asparagus.
Magnesium Rich Foods
Magnesium is another mineral that many people who suffer from restless legs syndrome seem to be deficient in. According to the University of Maryland Medical Center, magnesium has been shown to relieve RLS. In a study published in the August 1998 issue of "Sleep", Magdolna Hornyak MD and colleagues from the Department of Psychiatry and Psychotherapy from Albert-Ludwigs-University, in Germany found that magnesium relieved RLS symptoms for those that were experiencing moderate forms of it. Participants found the throbbing dissipated, their sleep improved and they did not have the urge to get up and move. LEF.org suggests that individuals that have RLS start by consuming 250 mg of magnesium per day. Good sources of magnesium include green vegetables such as spinach, legumes, nuts, seeds, and whole unrefined grains.
Foods with Folate
Folate is a water-soluble B vitamin necessary for the production of new cells including red blood cells and imperative to prevent anemia. RLS is directly related to a folate deficiency so eating foods high in folate and folic acid could relieve some or all of the symptoms individuals who have RLS experience. In a study published in the August 1976 issue of "The Canadian Medical Association Journal," M. I. Botez and colleagues showed that patients who suffered from RLS could find relief if they took 5 to 10 mg of folic acid per day. Folate and folic acid can be found in fortified breakfast cereals, beef liver, spinach, asparagus, great northern beans, green peas, broccoli and other fortified grains and pasta.
Is This an Emergency?
If you are experiencing serious medical symptoms, seek emergency treatment immediately.