Having a passion for fitness and teaching is helpful for becoming a personal trainer, but the desire alone is not enough to pursue this career. To work in most health clubs or studios, you must have a personal trainer certification.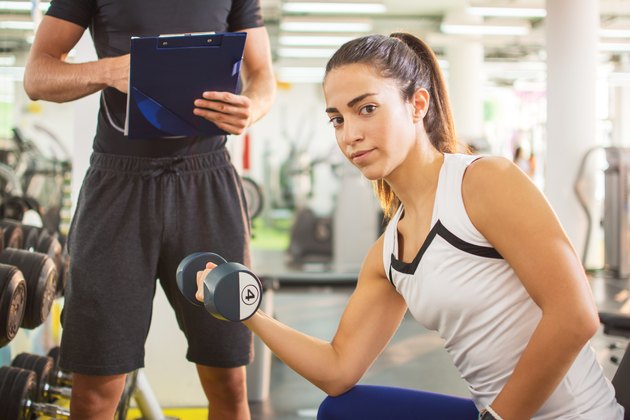 There are several accredited certification organizations, one of which is the International Sports Sciences Association, or ISSA. ISSA was founded in 1988 and has certified 200,000 people worldwide. A distance learning and certification organization, ISSA offers 12 fitness certification courses, including its personal training certification course.
Time Frame
You have four months from the date of your enrollment to complete your personal trainer certification coursework. If you are unable to complete the course in that timeframe, you may apply for a free two-month extension. According to the ISSA website, the majority of students are able to complete the course within 10 weeks. The coursework is self-paced, so you may study at your own speed.
Final Exam
The ISSA final exam is open book and online. You can take the exam from home using all your study materials. You may complete the exam at your own pace -- all at once or over multiple sessions. You may also change answers after you have entered them before submitting the exam. There is also a hardcopy version of the exam which you may mail in if you do not have online access.
Topics
The personal trainer certification course covers topics related to physical fitness and health, program development, anatomy and physiology, kinesiology and biomechanics and nutrition. Each topic is addressed in terms of how it relates to strength, cardiovascular training, flexibility training and body composition. Course materials are continually updated to provide the most up-to-date information, according to the ISSA website.
Cost
The ISSA personal trainer certification course costs $599, at the time of publication, and includes the following:
hardcopy and digital version of the main course text

study guide and workbook

marketing and business guide

practice exam and section quizzes

exercise reference guide and DVD

exam

online student forum

online exercise lab

free professional website

unlimited educational support
Prerequisites
In order to receive your personal training certificate, you must be 18 and have a high school diploma or equivalent. You must have submitted all course quizzes and received a score of at least 75 percent on all sections of the final exam. You also need to have proof that you have a current certification in CPR, AED and first aid, obtained through organizations such as the Red Cross.