Many women covet high heels. They can provide height, power, and even sex appeal. Performed in high heels, the high heel workout is one of the few exercises that incorporates this shoe. There are, however, many exercises that have been developed to help prevent injury from walking in high heels and to help you balance well.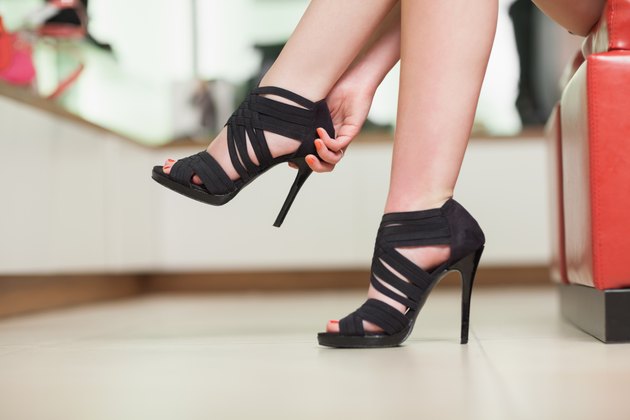 Walking
Walking in high heels creates a firmer butt and calves. Rosalind Neilen, a Florida-based trainer, developed the high heel workout. This workout focuses the first 10 minutes of the class on different types of walking in high heels. Walking to different tempos of music is performed. Neilen even incorporates balancing glassware to perfect the walk. After the first 10 minutes, participants complete the remainder of the class in athletic shoes.
Calf Stretch
When a woman wears high heels, it can tighten her calf. This results from shortening the calf muscles; the calf muscles shorten because the heel does not touch the ground when you wear high heels. Performing calf stretches lengthens calf muscles and helps you avoid injury and allows you to walk more comfortably in heels. Calf stretches can be done barefoot or wearing athletic shoes. Begin by standing next to a wall. Keep both feet on the ground, extend one foot behind you and slowly flex and contract the muscle.
Alphabet Foot
One way to keep your balance while walking on high heels is to perform the "alphabet foot" on a regular basis. This exercise aids you with balance. While barefoot, stand on your right foot, ensure that your big toe, little toe and heel firmly touch the ground. With the left foot, air draw the alphabet. Switch feet. These movements allow you to practice balance with all foot positions, according to Canadian Living.
Achilles Heel
Warm up the Achilles heel, before putting on your shoes, so that walking in high heels will be easier. While barefoot, point and flex the toe and do foot circles. These moves stretch this muscle, which can become tight when wearing high heels. A good stretch allows for better use of the muscle.