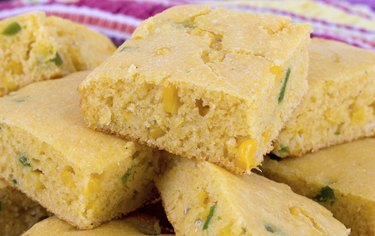 The Black Eyed Pea restaurant is a casual dining franchise with locations in Tennessee and Texas. The Black Eyed Pea restaurant specializes in southern cuisine and comfort foods, such as cornbread and chicken fried steak. These foods tend to be high in calories and fat, and may not be the best choices if you are attempting to lose weight, so check nutrition facts closely.
Salads
In addition to its classic southern meals, the Black Eyed Pea restaurant offers a number of salads, which tend to be low in calories; the dinner salad provides 127 calories with less than 8g of fat. However, not all of the salads are low in calories, such as the Cobb salad with fried chicken, which contains 560 calories and 34g of fat, which is nearly half of the maximum daily intake suggested by the American Heart Association.
Soups
The Black Eyed Pea restaurant offers several soups. While these soups are not particularly high in calories, they are high in fat. The cheese broccoli soup contains 316 calories and 20g of fat, while the spicy black-eyed pea soup contains 241 calories and more than 18g of fat.
Meat Entrees
The Black Eyed Pea restaurant has several meat-based entrees on the menu. Many of them are fried and high in calories. For example, the chicken fried steak, which contains 1,730 calories -- more than 86 percent of the total daily suggested calorie intake -- and 124g of fat, 37 of which are saturated. A lower calorie option is the grilled salmon with rice, which contains 382 calories but is still rich in fat, with nearly 27g.
Side Dishes
The Black Eyed Pea restaurant's menu boasts many side dishes, and the calorie content varies widely. One of the lower calorie options is the cornbread, which contains 122 calories and less than 3g of fat per slice. Not all of the sides are low in calories, however; the restaurant's loaded baked potato contains 799 calories, with more than 41g of fat.