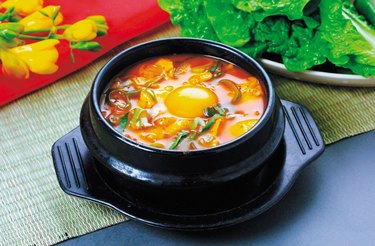 O'Charley's is a casual dining restaurant with locations between the Midwest and the East Coast. The menu features a range of steak, sandwich and pasta dishes as well as other entrees for brunch, lunch and dinner. O'Charley's also offers a to-go service, with some locations providing curbside pick-up. No matter whether you're eating in or taking your order home, you'll need to plan ahead if you're watching your waistline. Many of O'Charley's dishes are loaded with calories, but there are some healthier options available.
Misconceptions
Don't assume that menu options that contain salad or are labeled "grilled" are always healthy. While grilling is a healthier cooking method than frying, dishes can still contain a high level of calories and fat due to sauces or other ingredients added to the dish. For example, the grilled baja chicken has 1,010 calories and 36 grams of fat. Be on the lookout for dishes using turkey rather than ground beef because they are not necessarily always good choices. The O'Charley's turkey burger, for example, contains 890 calories and 54 fat grams. The classic burger made with beef contains over 200 calories and 17 fat grams less than the turkey option.
Soups & Salads
Eating a healthy soup or salad can be ideal for a light meal. They can also help fill you up so you'll eat less of a main entree. O'Charley's offers a variety of soups in cup and bowl sizes. Even though most are relatively low in calories, opt for the cup size if you're concerned about sodium, as most soups on the menu have an an excess amount. Picking a healthy salad option at O'Charley's can prove difficult, as some have more than 1,000 calories. The best option is to order the house salad and pair it with a light dressing. Ordering this salad a la carte without dressing has just 140 calories and 6 fat grams.
Main Entrees
Stick with seafood for your main dish when dining at O'Charley's. The cedar-planked tilapia has just 280 calories and 11 fat grams. The six-oz. grilled salmon containing 370 calories and 22 grams of fat. It has more fat than some other types of seafood, but is rich in heart-healthy omega-3 fatty acids, not harmful saturated fat. Another lower-calorie choice is the grilled shrimp containing 290 calories and seven fat grams. Red meat is a good protein and iron source, but is often high in fat. The lowest calorie and fat option on the menu is the 5-oz. Butchers Cut Premium USDA Choice steak containing 260 calories and 14 fat grams.
Dishes to Avoid
Don't give in to the temptation to order appetizers because many of them contain as many calories -- if not more -- than your meal. Chips and salsa may seem harmless, but an order at O'Charley's contains 520 calories. Avoid most of the pasta dishes because they contain most or all of a day's worth of calories in one order. The baked penne Italiano contains 1,700 calories and 99 grams of fat. Other bad nutritional offenders include the Bayou shrimp pasta, 12-spice chicken pasta and prime rib pasta. They all contain well over 1,000 calories and more than a day's worth of fat grams.