Beta-blockers are a class of medications prescribed to block the effects of adrenaline, a hormone produced by the adrenal glands. They help the heart work more efficiently, thereby reducing blood pressure, heart rate, muscle tremors and even anxiety. As well, beta-blockers have a relaxing effect on muscle function, gaining the drug class a popular reputation as an illegal, performance-enhancement drug for athletes who benefit from the adrenaline-blocking effects of the medication.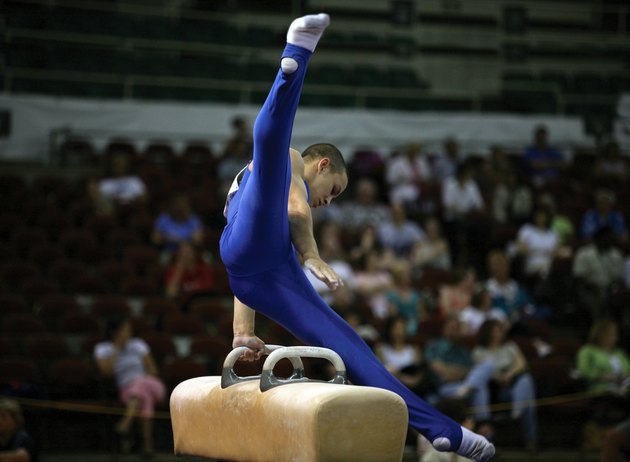 Propranolol
Propranolol is a beta-blocker that interferes with the reaction of nerve impulses inside the body, especially in the heart. As a result, propranolol causes the heart to beat slower, decreases blood pressure and calms the symptoms of anxiety. Some athletes use propranolol specifically for its anxiety-reducing effects, resulting in steadier hands, an even heart rate and the increased ability to focus. As of 2010, propranolol and all other beta-blockers were banned by the World Anti-Doping Agency for all Olympic sports, including archery, gymnastics, shooting and golf.
Metoprolol
Metoprolol is commonly prescribed to treat high blood pressure and is a popular beta-blocker because of its extended-release formula, which lasts throughout the day. Metoprolol is often prescribed as an off-label treatment for social anxiety disorder, performance anxiety and movement disorders because of its calming effect on the nerves and heart. Like other beta-blockers, common side effects include dry mouth, dizziness, tiredness and gastrointestinal discomfort. Metoprolol can cause serious adverse reactions, such as shortness of breath, unusual weight-gain and irregular heartbeat, which should be reported to your physician immediately.
Atenolol
Atenolol is another beta-blocker used by athletes as a performance-enhancement drug. It works by slowing the heart down and reducing its workload. Atenolol was introduced as a new kind of beta-blocker, created to provide the same heart benefits as other beta-blockers without causing as many nervous system side effects. Atenolol is also more commonly prescribed for patients with liver disease, because it is excreted almost exclusively by the kidneys. Atenolol helps reduce sympathetic nervous system responses, such as sweating, agitation and rapid heartbeat, making the drug a popular choice among athletes who wish to control symptoms of performance anxiety. Atenolol can cause serious adverse effects, including jaundice, dark urine and stomach pain.
Considerations
Beta-blockers can have dangerous effects when taken without a physician's advice. Some beta-blockers can cause severe blood sugar changes and heart failure in some people. Symptoms of heart failure include chest pain, difficulty breathing, weight gain and extreme fatigue. Seek immediate medical treatment for any of these symptoms. Beta-blockers can also interfere with the ability to perform strenuous physical activities and can cause symptoms of nausea and weakness when the heart cannot compensate for the body's demands. This is the reason beta-blockers are not used by athletes involved in strenuous sports, but are instead used by athletes who require steady hands, increased focus and a relaxed state of mind to perform at the utmost level.