Alcohol consumption is a major concern in the sports world. It remains one of the most abused drugs among athletes despite the well-known negative effects it can have on the mind and body. Drinking often begins among athletes during the high school years. If you play sports, it's essential that you understand how alcohol can damage -- even destroy -- your athletic ambitions.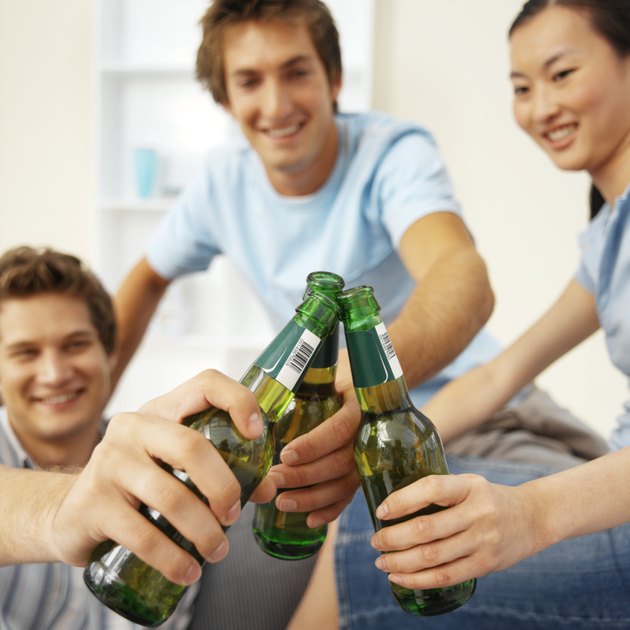 Muscle Development
Strength training is an important part of getting your body fit for athletic activity, but drinking alcohol can negate the results of your workouts. Its toxic effects also impair your body's ability to produce ATP, which is the primary energy source for your muscles. Alcohol affects your ability to get adequate sleep, resulting in a lack the human growth hormone that helps build strong, larger muscles. It also causes the liver to release a chemical that impairs testosterone, which is a key hormone in muscle development.
Aerobic Performance
Aerobic activity involves the use of oxygen to energize the large muscle groups needed to physically perform. It increases blood circulation and your heart rate. Your body's ability to respond aerobically is vital to play many sports, but alcohol can interfere with these physical reactions. It slows respiratory function, affects body temperature regulation and increases your risk for dehydration -- all of which affect your aerobic performance. Dehydration is particularly dangerous, as it can lead to heatstroke, seizures and shock.
Cognitive & Motor Function
Being able to learn strategies and respond quickly -- both physically and mentally -- are vital when you're playing sports. Alcohol can affect how your brain is able to form memories, resulting in your inability to learn and recall new information. Drinking five alcoholic beverages in one night can affect your cognitive function for up to three days. While low alcohol amounts can improve some motor skills, moderate amounts cause slow reaction time, decreased balance and poor hand-eye coordination.
Long-term Effects
Many of alcohol's effects on sports performance occur quickly, but long-term use can lead to serious repercussions as well. It affects your cardiovascular function in response to physical activity in addition to causing muscle weakness. Chronic drinking also affects your body's ability to absorb essential nutrients including zinc, folic acid and vitamin B12. It can alter your hormonal balance as well as cause heart damage.