Professional sports journalists ask the questions that sports enthusiasts want answered. The best questions to ask will depend on the type of interview you plan to conduct and the publication in which the interview will appear. Perhaps your readers want personal information about the player's life and family or answers that provide a glimpse into the mind of the athlete. Coming up with good questions might be as easy as asking yourself what you want to know. You can also get question ideas by considering the questions professional interviewers ask.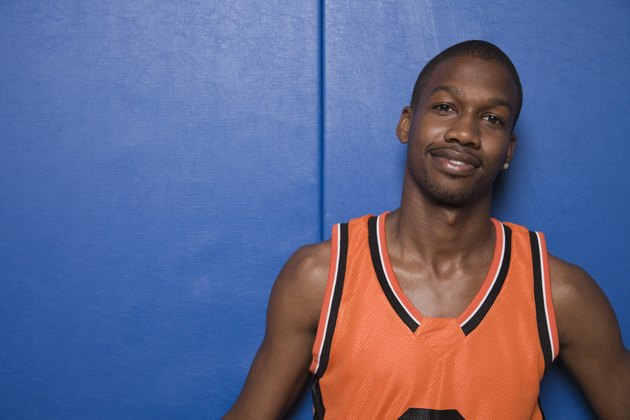 Pro Basketball Dreams
Many players have a story to tell about dreaming of professional basketball leagues and championship games. You can ask the player about his dreams as a young athlete or while playing at the high school or college level. In 2009, an interviewer from InsideHoops.com asked Earl Clark — who was a rookie player with the Phoenix Suns — at what point he realized that being a professional basketball player was a real possibility for him. Clark's explained that he was obsessed with playing for the NBA since he was a small boy.
Influences
Interviewers often ask professional basketball players about their influences. Questions might focus on their basketball mentors or other people who influenced them in other areas of life. Zachary Andrews, an American who plays professional basketball in Europe, spoke in a 2009 interview with Project860.org about the coach who saw his potential and encouraged him to believe in himself. Many professional athletes cite influences such as coaches, parents, teachers or a professional player whose career they followed.
Game Philosophy
Professional players sometimes have a philosophy about how to play the game, how to relate to teammates and other teams, and how to strategize during games. An interviewer from the Academy of Achievement once asked Bill Russell, a Boston Celtic Hall-of-Famer, about his scientific attention to the minutiae of the game. Russell explained in the 2008 interview that he took a holistic approach to the game and to winning, including polishing his skills, using observation and instinct and understanding the importance of each player's contribution.
Future Plans
Sports reporters frequently try to get professional athletes to answer questions about future plans. You might ask how long the player intends to play with his current team, if he is considering accepting an offer with a specific team or when they might retire from the sport. An interviewer from InsideHoops.com asked NBA player LeBron James in 2008 about his plans to leave the Cleveland Cavaliers and which factors would influence his decision. In response, James discussed the importance of the needs of his family.
Advice to Young Athletes
Young basketball players often seek advice from professional athletes about how to prepare for a professional basketball career. Professional basketball players have the benefit of experience, including successes and mistakes, to support their advice. For instance, in response to a 2009 "Teen Vogue" interview question, Candace Parker — who plays with the WNBA's Los Angeles Sparks —advised youth to become passionate about hard work and to consistently work at improving skills and working on weaknesses.