Bitter leaf soup, also called onugbu, is a Nigerian specialty. The bitter leaf, or onugbu, is commonly found around homes in southeastern Nigeria. There are many variations of bitter leaf soup. Common ingredients include fish, beef or goat meat, cocoyam, crayfish and locust beans. While fresh bitter leaf most often is used in Nigeria, you will need to cook the soup with dried leaves, which you can find in African or Jamaican food stores. This soup is typically time consuming to prepare, though simpler and faster versions do exist. This soup frequently is served with It is usually served cassava pudding called foo-foo or pounded yam.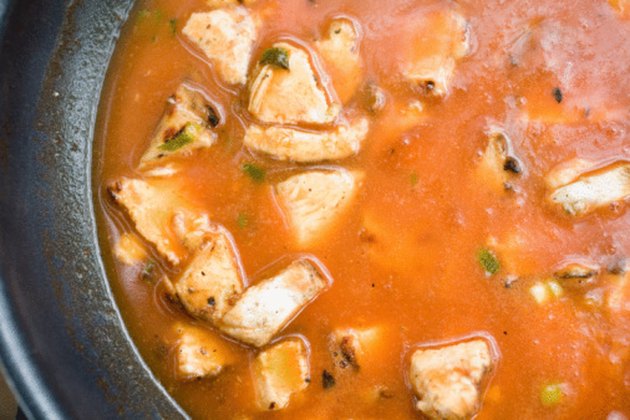 Traditional Recipe
Step 1
Place the stockfish slices in a shallow bowl. Cover them with water. Soak them overnight.
Step 2
Cut your chicken and beef or pork into bite-sized pieces. Put the beef or pork into a cooking pot with the stockfish. Set the chicken aside. Add water until it just covers the meat in the pot. Heat the contents of the pot with medium heat.
Step 3
Add tomato paste, salt and bullion as soon as you begin cooking the meat. This timing prevents a tomato aftertaste, notes "Healthier Alternatives," author May Jideofo. Continue to cook on medium heat for 40 minutes.
Step 4
Place the bitter leaf in a second pot as your meat mixture cooks. Add water until it just covers the bitter leaf. Heat on medium until the water begins to boil, then turn the heat down to low. Add the tenderizer. This will soften the bitter leaf. Cook for 20 minutes.
Step 5
Cut your coco yams into small pieces and place them in a third pot. Add water so it just covers the coco yams. Cook them on medium heat until they become soft. Alternately, microwave the coco yams until they are soft. Remove the yams' skin. Place the yams in a blender or food processor. Blend at high speed until the yams form a paste.
Step 6
Remove the bitter leaf from the stove. Pour it into a large sieve. Run cool, clear water over the leaves as you massage them between your hands. Continue massaging until all dark water is gone and water you squeeze from the leaves becomes clear. This can be a lengthy process—up to 20 minutes, warns Jideofo. Squeeze all of the water from the leaves once it runs clear and place them on a cutting board. Slice them into ½-inch long pieces. Put the leaves back in your pot, cover them with water, and bring them to a boil. Boil for 10 minutes. Pour the leaves back into a sieve. Massage them again until the water runs clear. If you do not have bitter leaf, use fresh greens like kale, collards, mustard greens or beet greens. Stack, thinly slice and mince the fresh greens. Sautee them in vegetable oil on medium-high heat in lieu of boiling them in a pot. Cover the pan and cook until the greens become limp, about five minutes.
Step 7
Blend your crayfish and fresh pepper in a food processor or blender with just enough water added to liquefy.
Step 8
Add water to your meat pot so that the level rises to 1 inch above the beef or pork. Add your bitter leaf, chicken, smoked fish and crayfish mix. Stir the ingredients well.
Step 9
Boil for 15 minutes. Crush the ogili isi with a spoon. ogili isi is a seasoning made from locust beans that is used in many Nigerian soups. Add the ogili isi, the coco yam paste, and all other remaining ingredients including salt and pepper to taste. Cook for another half-hour. Turn off the heat, but do not remove the pot from the burner. Instead, allow it to cool on the stove.
Simple Recipe
Step 1
Create a simpler version of bitter leaf soup without the meat. Heat vegetable oil in a large pot on medium-low heat. Place onions in the pan and cook them until they become transparent, about five minutes. Meanwhile seed and mince the chili. Add tomatoes to the pot when onions are ready, but reserve the juice from the can. Also add the chili. Cook for 10 more minutes or until the tomatoes are thick and concentrated.
Step 2
Cut your greens into strips, then chop them into small pieces. Stir your greens into the soup pot. Turn heat up to medium-high. Cover the pot and cook for five minutes, or until the greens become limp.
Step 3
Add chicken stock and reserved tomato juice to the pot. Keep the pot on medium-high heat. Bring your soup to a boil. Add the rice.
Step 4
Reduce the heat to low. Cover your pot. Cook for 45 minutes, or until rice becomes tender, recommends "An Exaltation of Soups," author Patricia Solley. Add salt and pepper to taste.
Things You'll Need
Two slices stockfish

3 lbs. chicken

1 lb. beef or pork

Three pots

Two 12-oz. cans tomato paste

2 tbsp. bullion

Salt to taste

Two dried, smoked fish

1 cup ground crayfish

½ lb. fresh coco yam

Blender or food processor

½ lb. dried bitter leaf

1 tsp. tenderizer

Sieve

Knife

1 tsp. pepper

One ogili isi

4 tbsp. vegetable oil

Two minced onions

One hot chili pepper

Two cups canned, chopped and peeled tomatoes

3 lbs. greens such as kale, turnip greens or mustard greens

2 quarts chicken stock

¼ cup raw white rice