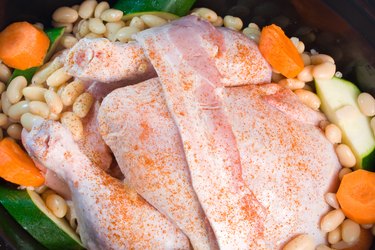 If you are looking for a convenient and inexpensive meal, a whole chicken and some vegetables can be placed in your Crock-Pot for a nutritious and flavorful main dish. Cooking chicken and vegetables together is a simple way to create a well-balanced and healthy meal that takes very little active preparation time. According to the Culinary Institute of America, steaming or roasting vegetables will help retain their nutrients, and slow cooking brings out most of their flavor as well.
Step 1
Take the innards out of the cavity of the chicken. Rinse the inside and outside of the chicken with warm water and pat dry with a paper towel. Sprinkle the inside and outside of the chicken with salt and pepper, and place, breast side up, in your Crock-Pot .
Step 2
Wash the potatoes and Brussels sprouts. Peel the carrots and onion. Chop all the vegetables into large pieces and scatter in the Crock-Pot, on and around the whole chicken. Add the minced garlic on top.
Step 3
Whisk chicken broth with tarragon and rosemary and pour over the top of the chicken and vegetables. Cover tightly with the Crock-Pot lid.
Step 4
Turn the heat to low and cook the chicken and vegetables for six to eight hours, depending on the size of the chicken.
Step 5
Remove the chicken and vegetables from the Crock-Pot and arrange on a serving platter. Allow to cool for two to three minutes. Slice the chicken and serve with a variety of the cooked vegetables.
Things You'll Need
Crock-Pot

Whole chicken

Salt and pepper

8 small red potatoes

5 whole carrots

1 cup fresh Brussels sprouts

1 yellow onion

Cutting board

Large sharp knife

2 cups low-salt chicken broth

2 tsp. tarragon

2 tsp. rosemary

4 minced garlic cloves

Tongs

Serving platter
Tip
Replace some of the chicken broth with white wine for a bolder taste.
Substitute the vegetables with your favorites. Sweet potatoes, green beans and turnips all cook nicely in a Crock-Pot.
Try stuffing the cavity of the chicken with herbs and garlic cloves for a more intensely flavored meal.
Warning
Wash all surfaces, cutting boards, knives and anything else that your raw chicken came into contact with, including your hands. Raw chicken can cause food poisoning, such as salmonella, but hot soapy water kills those germs.
Opening the Crock-Pot will cause the meal to take longer to finish cooking, so leave the lid on tightly until time to serve.