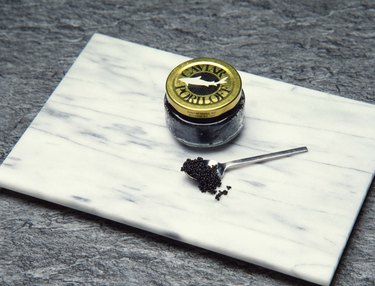 If you consider yourself an adventurous eater and really want to broaden your culinary horizons, give fish eggs, or roe, a try. You may have already had them on sushi; fish eggs are the bright orange glossy little gems that adorn the top of some types of sushi rolls. These tiny nutritional powerhouses are dense in essential minerals and rich in fat-soluble vitamins A and D. Spring is the season for fish eggs. Look for a pleasing aroma and use only the freshest eggs, which you can find in Asian markets.
Step 1
Whisk together milk, salt and pepper in a shallow bowl. In a separate dish, combine cornmeal and flour.
Step 2
Dip the roe first into the milk, then into the cornmeal, coating all sides well.
Step 3
In a heavy skillet, heat the oil until hot but not smoking.
Step 4
Carefully add the roe to the pan and cook on the first side for two to three minutes, until golden brown. Turn and cook for 2 to 3 more minutes. Cover the pan and cook for 3 to 4 minutes, until cooked through.
Step 5
Transfer to warm plates and serve with lemon wedges.
Things You'll Need
1/4 cup milk

Salt

Freshly ground black pepper

2 tbsp. cornmeal

2 tbsp. all-purpose flour

8 to 10 sets of white perch roe

2 tbsp. canola oil

Lemon wedges for serving