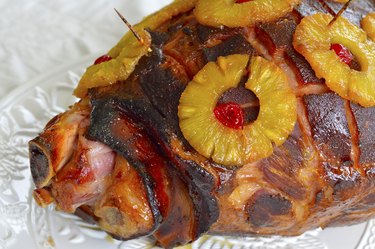 Country ham is a dish traditionally enjoyed during holidays such as Easter or Thanksgiving. Salt cured and aged for up to six months, country ham is typically cooked in the oven or smoked in a smoker. Smoking the ham continues the cooking process started during aging of the meat -- which comes right after the curing process -- and also releases the sweet-and-savory flavors of the pork. Preparing a country ham in an electric smoker is relatively simple, as long as you have the time. Smoked country ham can take four to five hours to completely cook.
Step 1
Prepare your glaze by combining the orange juice, honey and prepared mustard in a bowl. Mix the ingredients well with a fork for two to three minutes. Set the glaze aside.
Step 2
Prepare your electric smoker, making sure that the lava rocks are in place and the water pan is filled according to the manufacturer's instruction manual. You can substitute pineapple juice or apple juice for the water to flavor the ham during the smoking process.
Step 3
Preheat the smoker to 200 degrees Fahrenheit. Add wood chips about three to five minutes after you have started heating the smoker.
Step 4
Brush the glaze lightly over the ham and place it on the smoker. Close the lid and let the ham smoke for four to five hours. Brush the glaze over the ham every 45 minutes.
Step 5
Remove the ham when the internal temperature has reached 165 degrees Fahrenheit. Let it rest for five minutes before carving it.
Things You'll Need
6 to 8 lb. country ham, cooked and cured

Electric smoker

Hickory-wood chips

Apple-wood chips

Cooking thermometer

1/3 cup orange juice

1/3 cup honey

1 1/2 tsp. prepared mustard

Barbecue brush