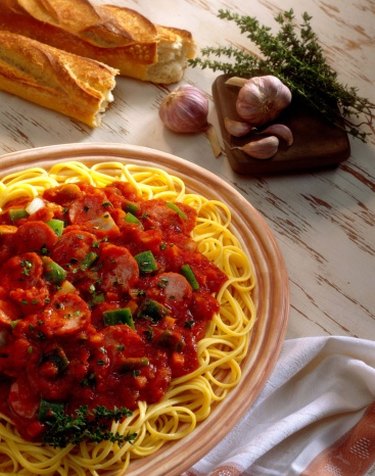 The caramelized surface of browned Italian sausage links allows you to eliminate added salt from your spaghetti sauce, while the sausage's sweet anise and fennel seed and the zesty red pepper flakes give the dish a punch of flavor. Serve smaller-diameter Italian sausages whole, atop a pile of spaghetti Bolognese, or cut them into 1-inch chunks for puttanesca. Slow-cook the sauce or make it on the stove top, pour it over spaghetti and Italian sausage and serve as-is or bake it first.
Italian Sausage Medallions
Step 1
Bring 3 quarts of chicken stock, one fifth of good-quality sherry, three sprigs of rosemary and two bay leaves to a rolling boil on medium-high heat in a 6-quart stockpot. Add 1 lb. of uncooked spaghetti and return the liquid to a rolling boil and cook until it is al dente.
Step 2
Place the second stock pot in the sink and place the colander on top. Allow the pasta water to drain into the second stock pot. Return the spaghetti to the first stock pot and set it aside, off the heat, while you prepare the Italian sausages. Discard the bay leaf and rosemary sprigs.
Step 3
Heat a 12-inch-diameter saute pan for one minute on medium-high. Add 2 tsp. of extra-virgin olive oil and heat for one additional minute before adding the Italian sausages to the pan. Saute the sausages until the entire surface browns.
Step 4
Place paper towels on a serving platter. Remove the sausages from the saute pan to drain on the paper towels.
Step 5
Pour any excess sausage grease into the spaghetti and toss it several times to ensure that it is evenly distributed. Return the saute pan to the heat and add in the onions. Stir the onions occasionally until they turn translucent before adding the bell peppers and garlic cloves.
Step 6
Dice the Roma tomatoes and add them to the saute pan with the onions, peppers and garlic. Add 1 cup of pasta water and simmer, covered, until the tomatoes turn to sauce, about 20 minutes.
Step 7
Slice the sausages into 1/2-inch-thick medallions and add them to the sauce. Stir until they are completely coated. Serve 1/2 cup of Italian sausage and sauce over 1 cup of spaghetti noodles, along with a garden salad made from Romaine lettuce, baby spinach and radicchio dressed with red wine and canola oil. Make garlic toast from a split loaf of French bread brushed with melted butter and sprinkled with garlic powder and black pepper.
Crumbled Italian Sausage Spaghetti Bake
Step 1
Prepare 1 lb. of cooked spaghetti as in Steps 1 and 2 of Section 1. Cut raw Italian sausages open and peel away the skins. Saute the sausage with 2 tsp. of extra-virgin olive oil until it is well-browned.
Step 2
Drain off any excess grease and add 1 cup of onions. Saute until the onions are translucent.
Step 3
Add the bell pepper and garlic cloves and saute until the bell pepper softens. Toss in the Roma tomatoes, add 1 cup of pasta water and simmer, covered, for 20 minutes and remove from heat.
Step 4
Cover the bottom of the glass casserole dish with Italian-sausage spaghetti sauce. Alternate layers of spaghetti with cheese and sauce, saving the asiago for topping. Cover with foil and bake at 325 degrees F until the cheese melts.
Step 5
Serve baked Italian-sausage spaghetti with garden salad and garlic toast.
Slow-Cooked Italian Sausage Sauce
Step 1
Fill the slow-cooker two-thirds full with chopped Roma tomatoes and diced bell peppers.
Step 2
Brown the Italian sausages whole or skin them first, as desired. Add the onions and saute until translucent. Pour the Italian sausage and onion mixture over the tomatoes.
Step 3
Cover and slow-cook on high for two to three hours. Prepare 1 lb. of cooked spaghetti as in Steps 1 and 2 of Section 1 15 minutes before the sauce finishes cooking. Drain the spaghetti and place a 1-cup portion on each plate. Serve with the slow-cooked Italian-sausage spaghetti sauce.
Things You'll Need
3 quarts chicken stock

1 fifth of good-quality sherry

3 sprigs rosemary

2 bay leaves

2 stockpots, 6-quart or larger

1 lb. uncooked spaghetti

Colander

12-inch-diameter saute pan

2 tsp. extra-virgin olive oil

2 lbs. hot Italian sausage

Paper towels

Serving platter

1 cup diced yellow onion

1/2 cup diced red and green bell pepper

6 cloves garlic, peeled and crushed

2 lbs. Roma tomatoes

1 lb. chopped Romaine lettuce

1/2 lb. baby spinach

1/2 lb. radicchio

1/2 cup good-quality red wine

1/4 cup canola oil

1 loaf French bread

Bread knife

Cookie sheet

1/2 stick melted butter

Garlic powder

Black pepper

2 oz. grated fontina

4 oz. cubed mozzarella

2 oz. grated Parmesan

4 oz. grated asiago

9- by 12-inch glass casserole dish
Tip
Keep the pasta water to use as soup or gravy base, or to boil your next batch of pasta. Always bake casseroles containing ground pork products such as sausage to 160 degrees F as measured with a meat thermometer.
Warning
Discard food that sits out for more than two hours at air temperatures below 90 degrees. Discard food after one hour when air temperatures are above 90 degrees.