Femoral anteversion is a condition where the femoral neck tilts forward, which causes the lower leg to rotate inward. The condition is present in 10 percent of children and usually corrects itself with time. Only when the rotation is in excess of 50 degrees is the anteversion considered a problem. Parents with children who exhibit signs of femoral anteversion may have their children perform easy exercises to help reduce the force placed on the femur.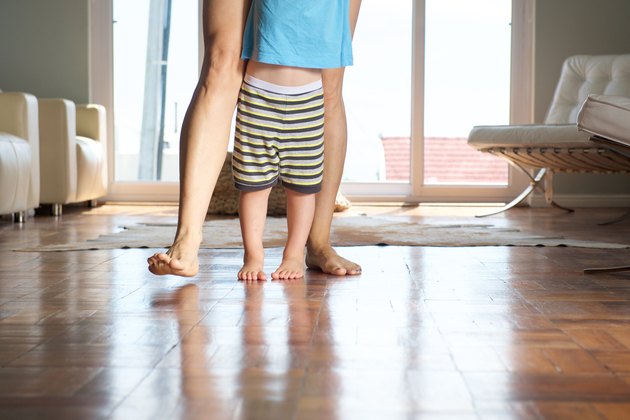 Conscious Walking
Children who are 8 to 10 years of age are more conscious of their bodies and can pay better attention to the mechanics of their stride. They should be instructed to take care to point their toes forward when they walk. This helps to train the muscles to work properly, which also helps reduce the stress on the thigh bones. Your child should work to be constantly conscious of her toe direction.
Bridging Exercise
The bridge exercise is a torso stability exercise that forces the femur to align properly with the hip and knee. The child should lie on his back with his knees bent and his feet flat on the floor, hip distance apart. He should take a deep breath in, then exhale and press his upper back into the floor as he lifts his hips up off the floor. He should press his feet into the floor and squeeze his butt muscles together. His lower body should come up so that a straight line should form from his shoulders to his hips. Next, he should inhale, still in the upper position, and then exhale as he slowly lowers to the starting position. Have him do five repetitions of this exercise. Have your child do this exercise every day.
Backward Walking
For toddlers, it is more difficult to have them be conscious of which direction their toes point when they walk, but they are able to do other fun activities. Backward walking is one example. This move helps to strengthen the muscles of the hips and can lessen the force exerted on the femurs. Have your toddler walk forward 10 steps, then back nine steps -- or more -- if you are able to do these exercises outside. Do this every day.
In Severe Cases
Most -- 99 percent -- of femoral anteversion cases correct themselves. In severe cases, surgery may be considered, but only in older children. It is a very high-risk surgery. Children who suffer from mild cases of femoral anteversion are not any more likely to suffer from arthritis or other problems than children who have normal femoral development.
Is This an Emergency?
If you are experiencing serious medical symptoms, seek emergency treatment immediately.