Usually breaded, fried and served as an appetizer in restaurants, calamari is simply edible squid. Calamari tubes are the body of the squid, minus the tentacles, and are usually cut into rings or strips. Calamari is low in calories and high in omega-3 oils and protein. With the potential heart healthy benefits that calamari provides, incorporating it into your diet is a tasty and nutritionally sound decision.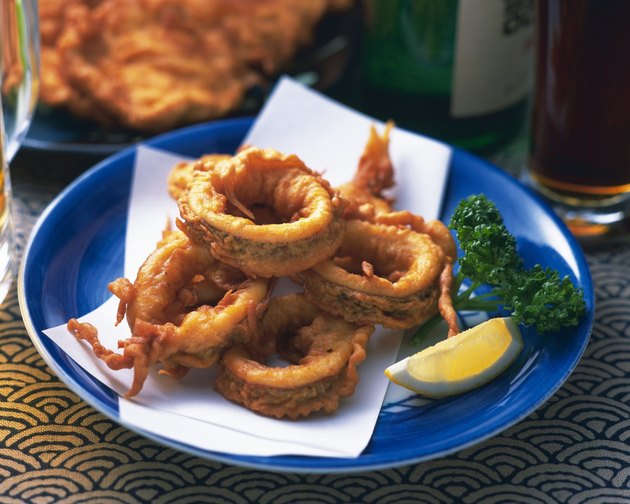 On the Stove
Step 1
Heat 2 to 3 tbsp. of cooking oil or butter in a skillet.
Step 2
Wash the calamari tubes under cool running water.
Step 3
Cut the calamari tubes into strips or rings.
Step 4
Season the calamari to taste. Dip it into milk or water and dredge it with a combination of bread crumbs, flour or cornmeal as a base and add desired seasonings. Salt, pepper, garlic and onion powder go well with calamari. You also can sauté it with only oil or butter and spices and leaving the breading off for a healthier dish.
Step 5
Cook the calamari in the oil or butter for several minutes until they are opaque and tender. If you used a coating and cannot see the color, cook for five to seven minutes and cut into one of the rings to see if it is cooked all the way through.
Step 6
Remove the calamari from the pan with tongs or a slotted spoon and serve immediately.
On the Grill
Step 1
Wash the calamari tubes in cool water and cut them into strips.
Step 2
Wipe the strips with olive oil and season them with your favorite seasonings. Salt and pepper, garlic and lemon juice are tasty choices for calamari.
Step 3
Set the calamari strips onto the grill away from direct heat.
Step 4
Grill the strips for two to three minutes on each side.
Step 5
Remove the calamari from the grill with tongs and serve immediately.
Things You'll Need
Cooking oil or butter

Skillet

Seasonings

Tongs

Slotted spoon
Tip
Serve cooked calamari with a side of marinara or tartar sauce by itself or over rice or salad. Cook fresh calamari tubes within two days of purchase.